Private, Flexible & Customized
 We meet you in the port, in the hotel lobby or at the airport. We offer only a private Day With A Local experience for you and your group, an alternative to a typical guided tour or shore excursion.
Above all, you can choose your day program 100 %. Your Local adapts to your and your group's wishes and requests during the day.
Locals give their own personality and point of view. This is not a guided tour, but better yet, an experience with a Local! Get to know our team
Safe, Reliable & Genuine
Our guests have been delighted by fast correspondence and our reliability. We reply to all e-mail & WhatsApp messages in English within 24 hours. If you don't receive a reply, please check your e-mail Spam folder!
Liisa, founder of the company, owner of the business and a Helsinki Local herself, has handpicked and met all team members in person in all cities: Tallinn, Stockholm, Helsinki and Porvoo. All team members have been trained to host you, yet keeping their own personality at the same time, to keep the experience genuine.
Sincere, Transparent & Fair
We give only recommendations based on our own experiences. No paid recommendations, only real opinions! All Day With A Local fees and additional costs are visible. All of our team members are paid for their time & effort. We offer an alternative to typical guided tours. Learn more
Experience cities the local way – not only on a typical guided tour
We use public transportation, walk, and when needed take a taxi, as locals do. In all of the cities where Day With A Local is available, public transportation is the most convenient way to get around.
If you've got any special needs, please let us know and we can make arrangements suitable for you. We are happy to arrange private transportation for you, for example. Our concierge / travel assistant type additional services (as arranging special arrangements) start from 60 euros. If there is an additional fee from the arrangements, you are always informed in advance!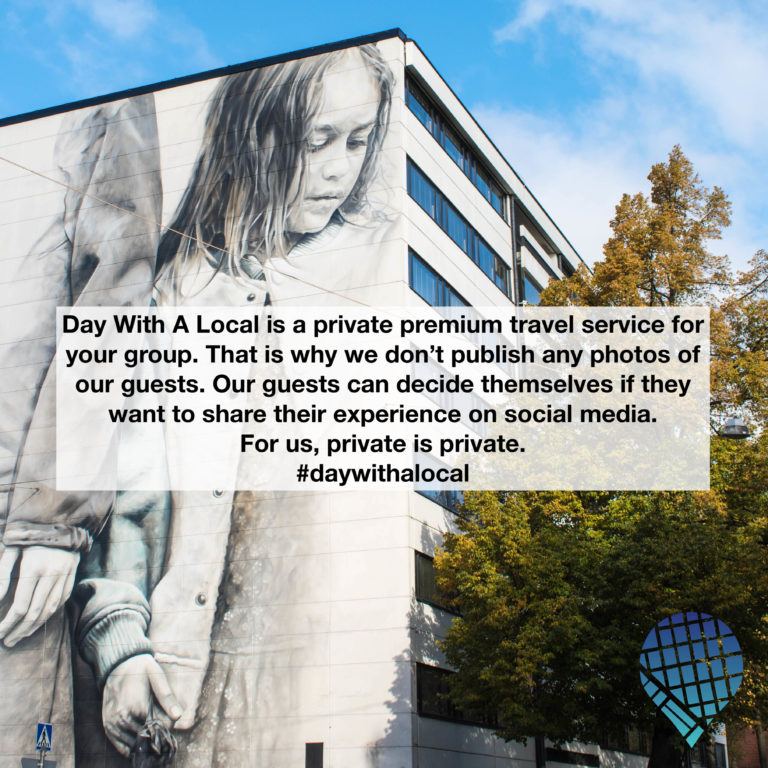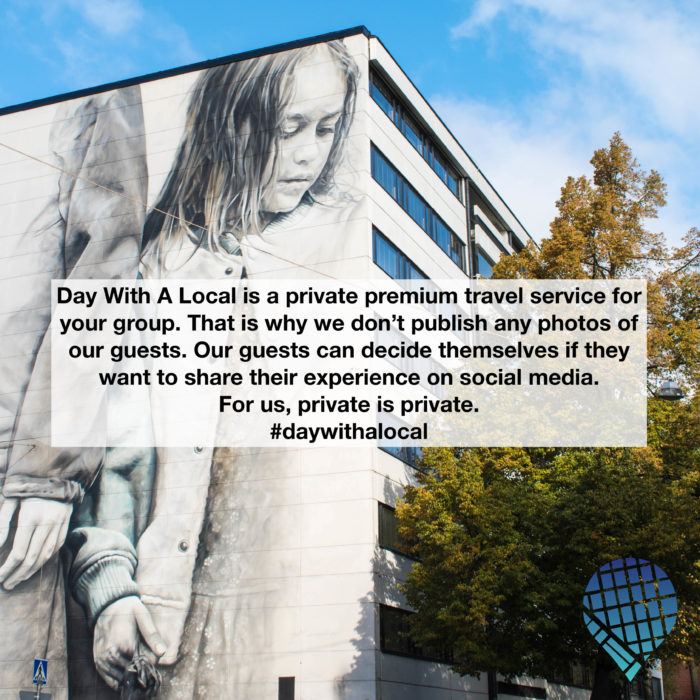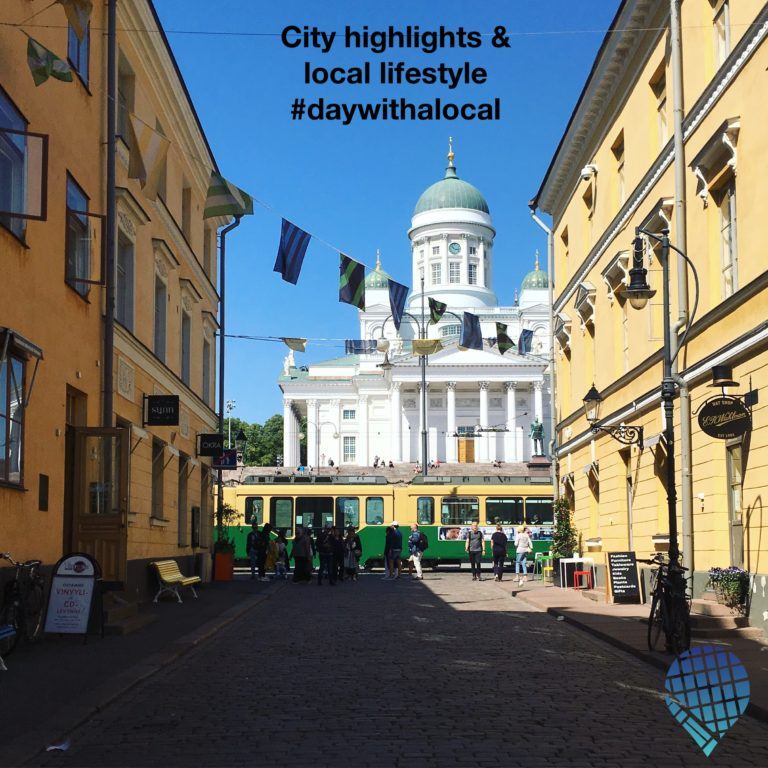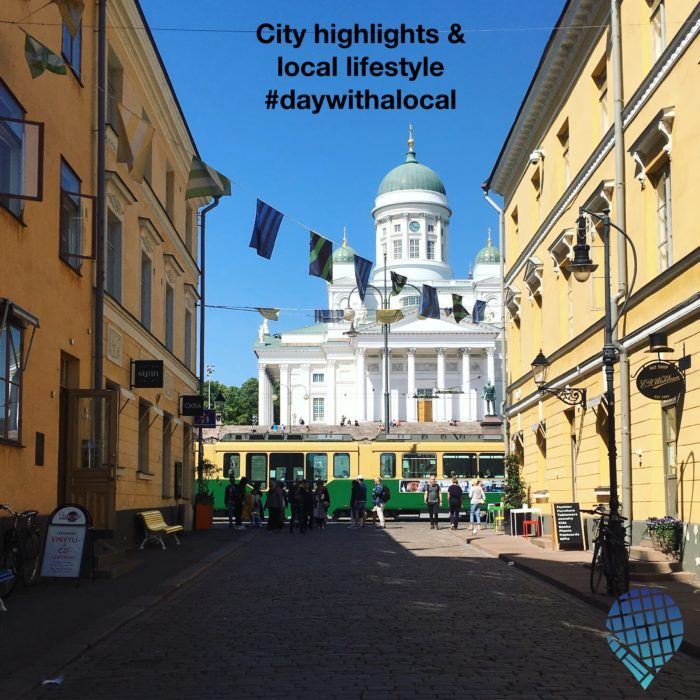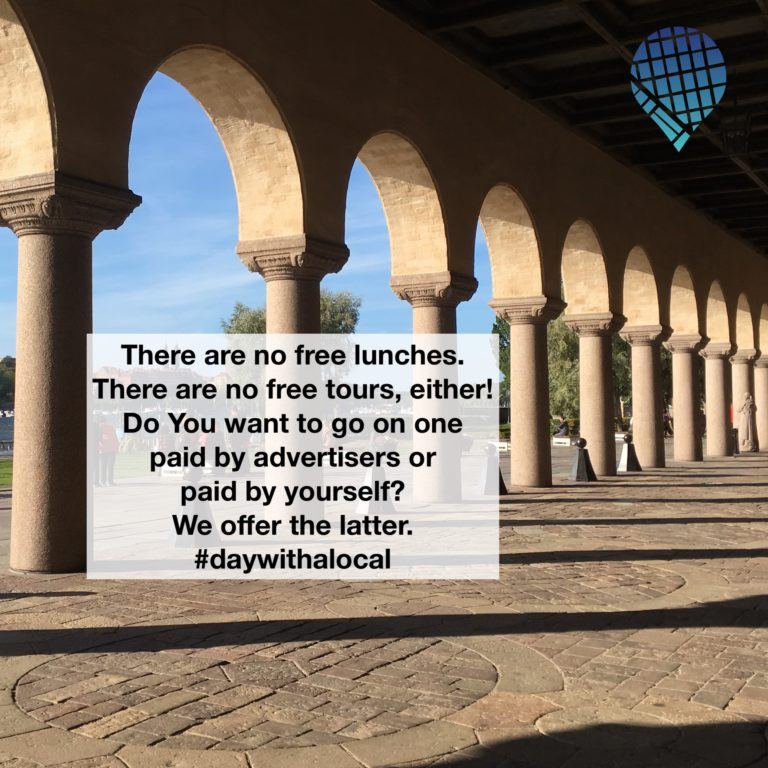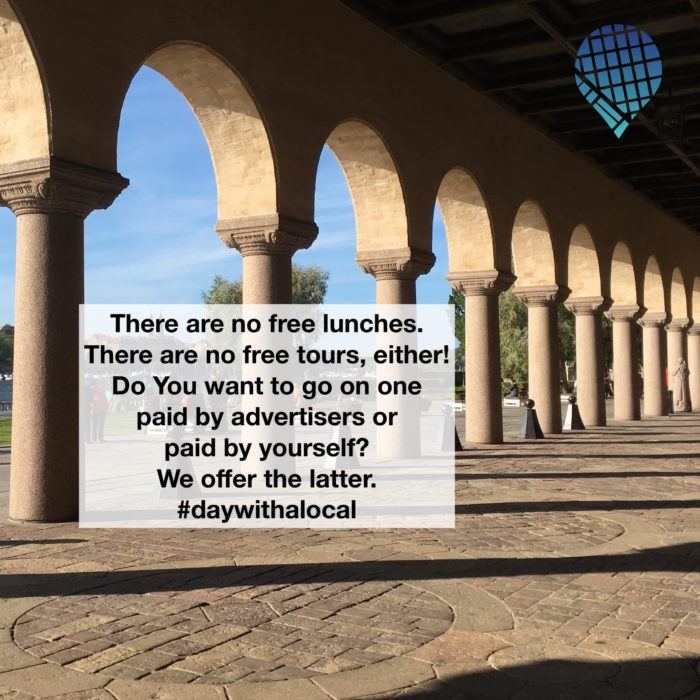 What is Day With A Local?
Day With A Local provides a 100 % flexible, customized and private day in your travel destination
Our service combines city highlights with the local perspective in the city you are visiting. If you want to focus only on highlights or skip all touristy spots, let us know and we will adjust your program accordingly!
We are warmly welcoming guests with any special needs
Day With A Local is a day at your pace, according to your and your group's wishes. We have hosted guests with mobility issues or who are in a wheelchair, as well as guests who like to walk the whole day. Tell us what you prefer and your day will be arranged according to your wishes. We usually use public transportation and walk, as locals do. Included in our travel assistant services, we can also make arrangements for private transportation for the day.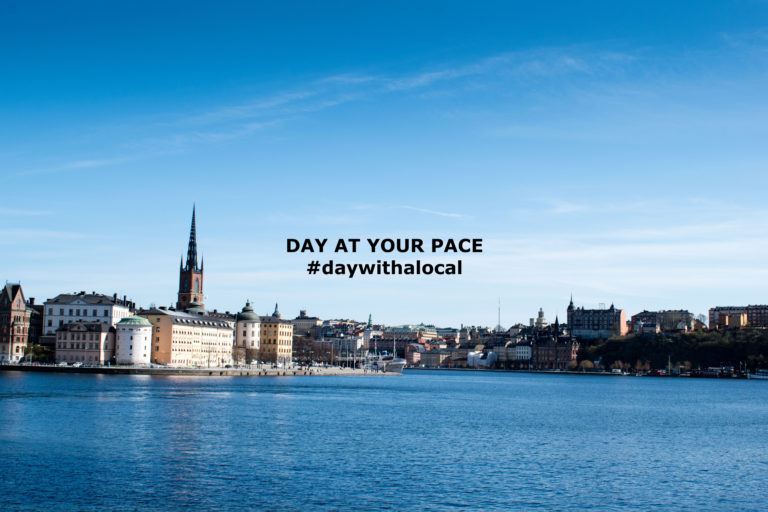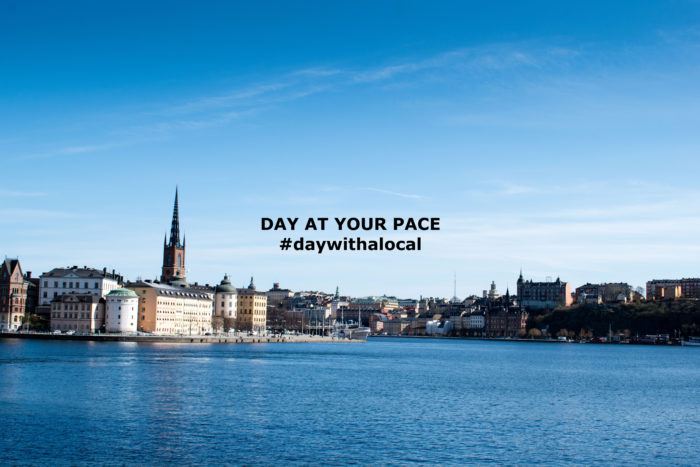 Day With A Local has passionate Locals in all locations waiting to show you their city and what they love about it
During your Day With A Local you will meet a Local, see the highlights of the city from a Local's point of view, and you will also receive lots of tips for the rest of your holiday if you're staying for a longer time. Interaction with a Local is a key element of the day. In other words, you will talk and discuss about subjects that you are interested in, visit the places you want to visit, and feel like a local.
Day With A Local isn't a typical guided tour with lots of memorized information one place after another. For instance, Locals are encouraged to add their personality to your day and answer your questions as well as talk freely about subjects that are of interest to them, to create a unique local experience.
Our Locals never push you inside a souvenir shop (and you've been on one of those tours before, right?!). All recommendations we give are real – we don't get any movie tickets, free dinners or other compensation for our recommendations (unlike what happens so often in tourism, unfortunately)!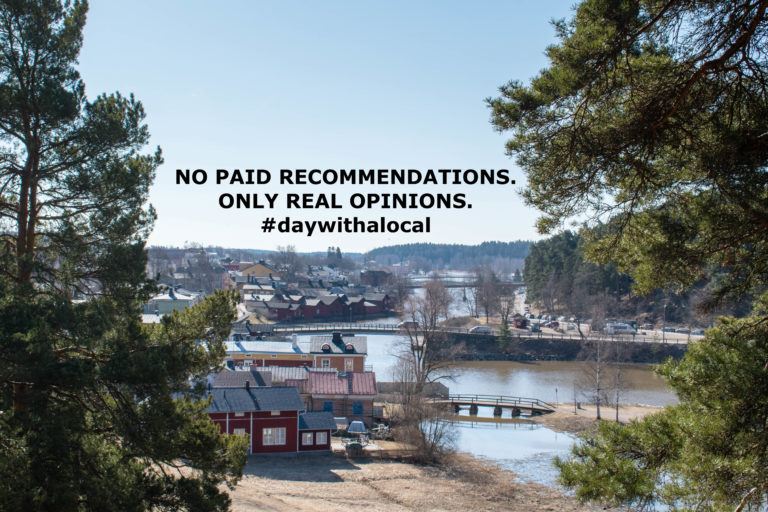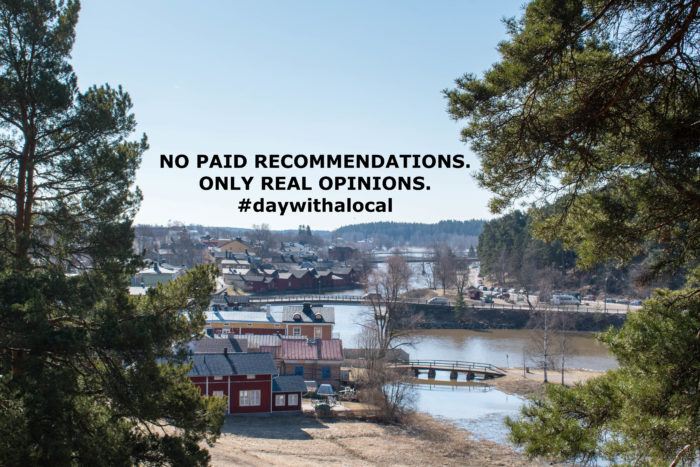 Day With A Local starts at your desired meeting point
We can meet in the port, hotel lobby, railway station, airport arrivals terminal or other meeting point that is most suitable for you.
100 % customized contents of the day
You can ask for a specific program or let your Local take you to their favorite spots!
Breaks or no breaks? It's your choice!
For instance, you will decide whether you want to have coffee break/s, lunch break, sit in the park for a while – or if you want to keep going the whole day. Your Local adapts to any wishes.
On time back in the port or at the airport
Whether it is a shore excursion or a stopover, if you are having a timetable, we will make sure that you are back in the port or at the airport on time although you are going around with your own group only.
Have a worry-free day with us
Customized
Your itinerary is created based on your preferences, there is not just one available itinerary of a guided tour but plenty of options where to choose from.
Conversational
Enjoy interaction with a Local instead of 'following the umbrella' on a typical guided tour.
Flexible
Your Local reacts to your needs in terms of pace, breaks and a change in plans, in a 100 % customized way (for sure better than on a typical guided tour).
Priced per group of 1 to 8
Prices are announced per group up to 8 people. Additional cost for 9+ people.
395-495 €/ group of 1 to 8 (7 hours); any length of day is available
Most popular service: 395-495 € for 7 hours
The price of 395 € is available for groups of 1 to 8 people when Day With A Local is booked and paid online min. 1 month in advance or if booked between two weeks and one month in advance and paid within 48 hours from booking. Normal online price 445 € for bookings and payments closer to the day. From Nynäshamn port in Stockholm and Helsinki airport: 495 € including 7 hours of time calculated from meeting the guests when paid in advance, normal online price 545 €. Different pricing possible on national holidays. Please note that your public transportation or other transportation, possible admission fees, food or drinks aren't included. Local's basic costs and VAT 24 % are included. Learn more about pricing
Day With A Local from and back to the port
 395-495 €/max 7 hours (advance payment)
The price of the shore excursion includes meeting the Local in the port and ending the day in the port, at the security gate, time calculated from meeting the guests. We will return back to port 30 to 60 minutes before ship's doors close. Day with Liisa from and back to the port 495 €.
Day With A Local from the airport and from Nynäshamn port, Day with Liisa in Helsinki
495 €/max 7 hours from meeting (advance payment). Meet your Local in Nynäshamn port or at Helsinki, Stockholm or Tallinn airport. In Stockholm, goodbye at Stockholm Central Railway Station (additional +100 € if returning back to Nynäshamn with a Local, total 8.5 hours).
Half Day With A Local during October-April
4 hours for 255 € or 5 hours for 315 €/group of 1 to 8 (advance payment)
Groups of 9+
 The price is calculated according to the number of Locals and there is an additional fee for arrangements (minimum 60 €).
Day With A Local is available in the following cities
Experiences recommended by Locals – 100 % ad-free!