Friends of Day With A Local crowdfunding campaign is open
Do you want to use independent, transparent, flexible and personalized tourism services on your holiday? Do you not want to be pushed inside a souvenir shop on your private guided tour? 
Day With A Local offers a 100 % customized and conversational alternative to typical guided tours. We combine city highlights with local lifestyle and adjust the day to your private group's wishes and special needs. We give recommendations for your entire stay. Our recommendations are always real, non-paid and based on our own experiences.
This is a safe choice for you as we interview all team members and provide them the Day With A Local training program. As you book directly from us, your money goes to the Locals you meet and who are in correspondence with you.
We have hosted hundreds of guests: solo travellers, couples, families and groups of friends from around 40 nationalities in Helsinki since 2015. Two years ago we expanded to Tallinn and Stockholm.
Despite 92 % of five star reviews our booking calendar is almost empty for this summer. We will operate at least until the end of the summer season 2019. The future of the company depends on what will happen during this summer season.
If we reach the minimum goal, entrepreneur of Day With A Local Liisa Eskelinen will gather the experiences and learning lessons of entrepreneurship into a book. The main reward of the crowdfunding campaign is the e-book and book 'Day With A Local: A Story About Success and Failure'. Both e-book and book will be published both in Finnish and in English by the end of year 2020.
When reaching the minimum goal, we will also create the ad-free Friends of Day With A Local Community Platform. Access to this exclusive content will open in September 2019 and it will include travel tips and recommendations based on our team's travel experiences worldwide. If you are a former guest of ours access to the Community Platform is included in any of the purchases of this campaign!
Please get to know the crowdfunding campaign and become a Friend of Day With A Local. Thank you for your support. Let's be the change we want to see in tourism!
Friends of Day With A Local crowdfunding campaign is open for five weeks: from Monday 3rd June to Monday 8th July! Go to the campaign page and become a Friend of Day With A Local today.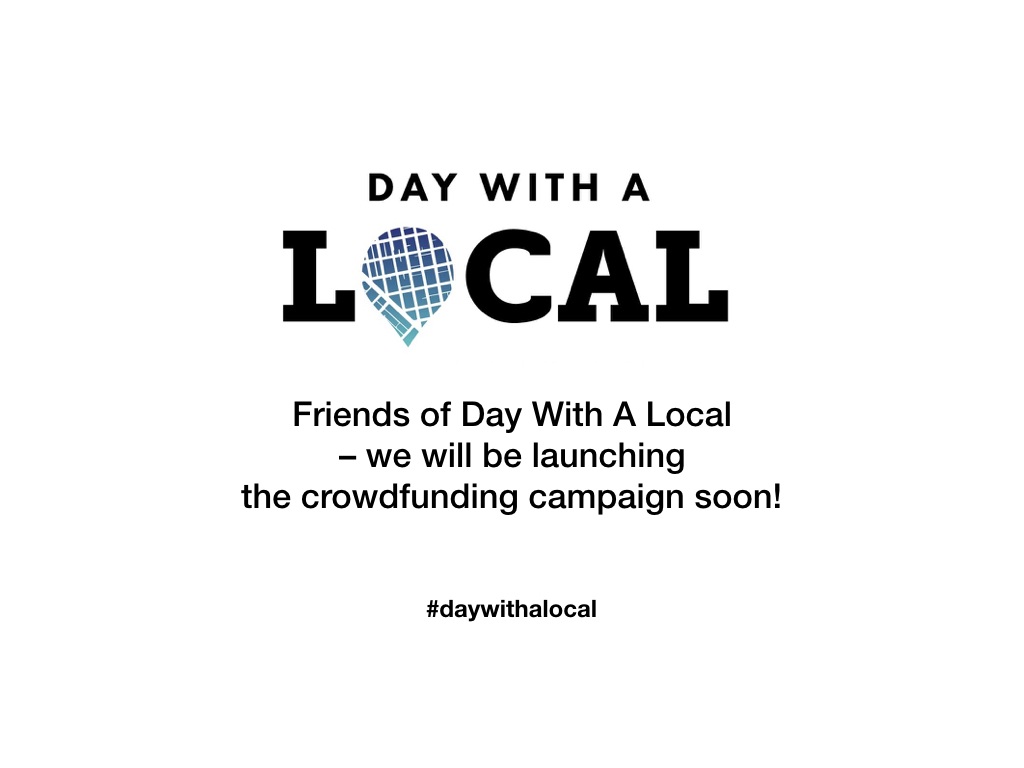 Haluatko käyttää riippumattomia, läpinäkyviä, joustavia ja yksilöllisiä matkailupalveluja lomallasi? Haluatko, ettet joudu matkamuistomyymälään haluamattasi päiväsi aikana?
Day With A Local tarjoaa täysin kustomoidun ja keskusteluun perustuvan vaihtoehdon perinteisille opaspalveluille. Yhdistämme kaupungin kohokohdat paikallisen elämäntavan kanssa ja muokkaamme päivän ryhmäsi toiveiden ja tarpeiden mukaan. Annamme suosituksia koko vierailusi ajaksi. Suosituksemme ovat aina aitoja, ei-maksettuja ja perustuvat omiin kokemuksiimme.
Day With A Local on turvallinen vaihtoehto, koska haastattelemme tiiminjäsenemme ja tarjoamme heille Day With A Local -perehdytysohjelman. Koska varaat suoraan meiltä, rahasi menevät suoraan Paikallisille ketkä tapaat ja jotka ovat yhteydessä kanssasi.
Meillä on ollut satoja vieraita: soolomatkustajia, pariskuntia, perheitä, ystäväporukoita ja muita pienryhmiä noin 40 kansallisuudesta. Olemme toimineet Helsingissä vuodesta 2015 alkaen ja kaksi vuotta sitten laajensimme Tallinnaan ja Tukholmaan.
Vaikka 92 % arvion jättäneistä asiakkaista on antanut täydet viisi tähteä, varauskalenterimme tälle kesälle on lähes tyhjä- Olemme toiminnassa ainakin kesäsesongin 2019 loppuun. Tulevaisuus riippuu siitä, mitä tämän kesän aikana tapahtuu.
Joukkorahoituskampanjan päävastikkeena on e-kirjana ja kirjana julkaistava 'Day With A Local: Tarina onnistumisesta ja epäonnistumisesta'. E-kirja ja kirja julkaistaan vuoden 2020 loppuun mennessä. Kampanjan ylittäessä minimitavoitteensa avataan myös Friends of Day With A Local Community Platform, mainokseton matkakokemusyhteisösivu, jonka sisällöt pohjautuvat Day With A Local -tiimin aitoihin omiin matkakokemuksiin maailmanlaajuisesti.
Tutustu kampanjaamme ja tule Day With A Localin ystäväksi. Kiitos tuestasi. Ollaan se muutos, jonka haluamme nähdä matkailualalla!
Day With A Localin ystävät -joukkorahoituskampanja on avoinna 3.6.-8.7.2019. Tutustu kampanjaan Mesenaatti-joukkorahoituspalvelussa.